Millie-Rose's Story
"This new wheelchair from Whizz Kidz has changed so much for me"
Millie-Rose has Ehlers-Danlos Syndrome which affects connective tissue and causes her chronic pain, alongside frequent dislocation of joints and many other symptoms. Ehlers-Danlos affects every individual in different ways and there are six subtypes within the disorder. Millie-Rose's type is hypermobility. Due to the frequent dislocations of the joints in her legs and hips she often relies on a wheelchair to get around on a day-to-day basis.
Millie-Rose was given a standard manual wheelchair from the NHS which she describes as 'big, wide heavy, clunky and uncomfortable'. She was unable to push herself around and it would even dislocate her shoulders and elbows trying to use it. It limited her independence and affected her confidence.
After her assessment with Whizz Kidz, Millie-Rose was provided with a lightweight active manual wheelchair, with e-motion wheels. The new wheelchair has not only enabled Millie-Rose to go to college, but has given her the confidence to begin travelling abroad on her own.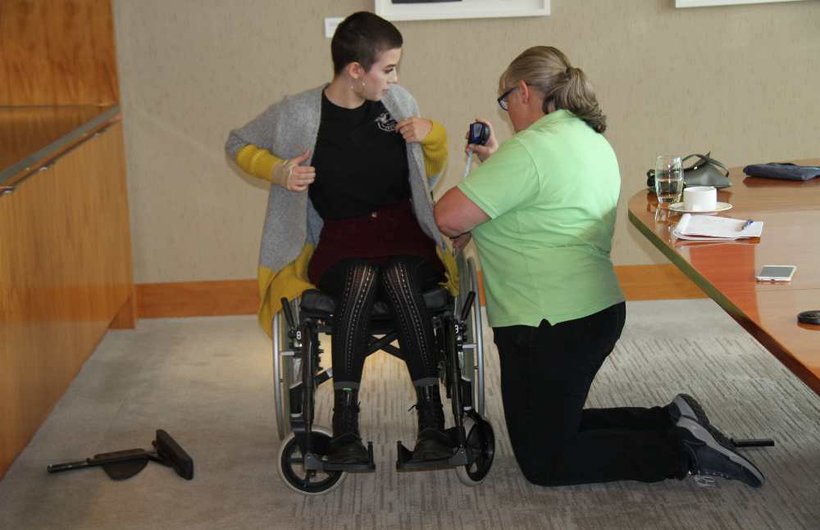 "I remember I was being measured for things I wouldn't have even thought needed measuring but Whizz Kidz were keen to make sure everything fitted correctly. To top it off I was even able to choose the colour of my chair, which is matte black, looks super cool and stylish, it fits me perfectly. I still remember the day I got my wheelchair. It was November the 22nd 2017. I was so anxious but I couldn't wait. I was just sat there thinking about the possibilities! The mobility engineer, Dean, brought the chair up and I couldn't stop smiling.

"This new wheelchair from Whizz Kidz has changed so much for me. It's light enough for me to easily push myself - I do not have to wait around for someone to push me around everywhere. The motors in the e-motion wheels give me an extra boost which takes the pressure off my arms and allows me to go really fast. Before I used to struggle to keep up with family and friends but now they struggle to keep up with me. The motor gives me that extra boost when I am wheeling myself which means my arms aren't as prone to dislocating.

"I can't wait to travel abroad on my own. I just want to prove to everyone that I can do it. I am really looking forward to it and if I am being honest, without this wheelchair there would have been no way of me even dreaming about doing such a thing."
Our Impact
Read more about the life changing impact Whizz Kidz makes to lives of young wheelchair users
Read more