Manual Chairs
If you're a young person who uses a manual wheelchair getting the right one for your needs is life-changing
We supply custom manual wheelchairs to some of the 75,000 young people in the UK who need them to be fully mobile, when they don't meet the criteria for provision of this type of equipment from their local wheelchair service.
Whizz Kidz has over 30 years of experience tailoring high-quality equipment, so it meets your needs and lets you go further in life.
Our manual chairs are high-performance, lightweight pieces of equipment that will meet your unique mobility requirements and open up your world, making it more accessible so you can enjoy being independent and active.
What makes a good manual wheelchair for you?
Before providing you with a wheelchair, we will assess the best model for your needs. To start, this will ensure you're comfortable in the chair. It should fit your body shape and size, providing adequate support.
Your new wheelchair should be easy to control, manoeuvre and transport. We'll ask where you want to use it – which environments you will be in and what kind of terrain you want to cross, from pavement to park and countryside.
Feeling safe in your wheelchair is vital. It shouldn't tip over easily or risk injuring you. We only supply wheelchairs that meet the highest standards. And that applies equally to how durable they are. The last thing anyone wants is a chair that breaks, so quality components and thoughtful design are essential.
What are the benefits of a manual wheelchair?
Compared to powered wheelchairs, manual models are lighter, easier to pack away and more affordable. But the most significant benefit of any wheelchair is the freedom it gives you. A manual wheelchair that you can self-propel helps you stay active and mobile so you can do what you enjoy without relying on others.
A manual wheelchair can also enhance your physical fitness. Your upper body muscles work when you push them, improving your posture and circulation.
You can customise your manual wheelchair, adjusting it to get maximum comfort. Adding accessories can enhance your mobility. Choose your colour to represent who you are or to match your favourite trainers.
To help us find the right manual wheelchair for you, apply using the equipment application form.

Apply for Equipment
Think we might be able to help? Find out more about the application process.
Find out more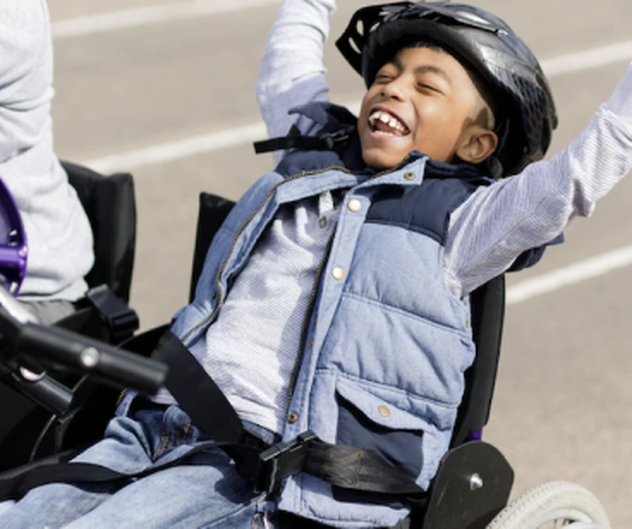 Our Clinics
Find out more about how our wheelchair and equipment clinics work