A-Z of Fundraising Ideas
Get inspired with our tried-and-tested ways of raising money for Whizz Kidz
Want to raise money for Whizz Kidz but need more ideas of what to do? You're on the right page! We have loads of instant inspiration listed from A to Z. Don't forget that whatever you decide on, every action you take, and every pound you make will help young wheelchair users go further.
Tell us about your plan!
Let us know about your fundraising plan and we'll see how we can help!
Tell us more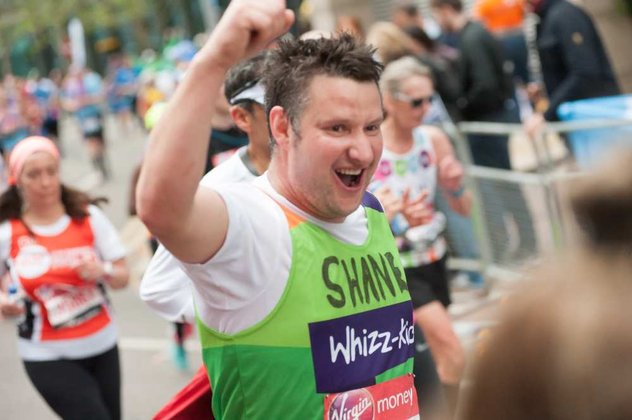 A for Afternoon Tea
At work, school or with your friends and family, make some yummy treats, raise your pinky when you drink and ask for donations to join
B for Birthday Fundraising
Want to do something incredible for your birthday this year? Set up a Facebook Birthday Fundraiser and ask for donations
C for Climbing
Get sponsored to climb your stairs the equivalent of steps it takes to climb major global landmarks - think the Eiffel Tower, Kilimanjaro or even Mount Everest!
D for Dress Down Day
Dress down (or up!) for school or work- ask everyone to donate to get involved and don't forget to tag us in photos on social @WhizzKidzUK
E for Eurovision
Or use another event to create your own sweepstake to raise funds
F for Film Night
Get your mates round, snacks in, and everyone makes a donation to watch a film, or binge watch a series!
G for Games Night
Get together with your friends and family for a games night with a twist - all pay to entry and spilt the total between the winner and Whizz Kidz.
H for Head Shave
Go old school and shave it off for donations - stay old school and find our sponsorship forms here
I for International
Did you know that we have some international sponsored events that you could take on? Contact events@whizz-kidz.org.uk.
J for JustGiving
It is quick and easy to set up your own online JustGiving fundraising page, that's bespoke to your event! You can share it with friends and family to encourage them to donate to Whizz Kidz, helping us support many more young wheelchair users.
K for Karaoke
Do you fancy yourself as bit of a singer, or know all the words to Bohemian Rhapsody? Even if you don't why not find a venue (it could be home, office or even a real karaoke bar!), charge an entry fee, or donate per song and fundraise.
L for the London Marathon
What else could it be?! Sign up today
M for Match Funding
Before you start your fundraising, ask your work if they offer match funding to double your impact on Whizz Kidz
N for Night In
Swap your night out for a night in and self donate the difference to Whizz-Kidz. Pick a great film, grab your PJs and enjoy your night!
O for Open Mic Night
Calling all singers, musicians, comedians, magicans and everyone inbetween - host your own open mic night! Reach out to a local pub to see If they will donate the venue and simply charge an entry fee and ask for donations on the night
P for Playlist
Listen to music when running? Your friends and family get to pick their favourite (or not!) song to add to your playlist to listen to on the day - for a small fee!
Q for Quitting
Whether its your morning coffee, chocolate or that little tipple, get sponsored to give something up! You don't have to wait for January or Lent…
R for Recycling
Got a few things in your wardrobe gathering dust? Get yourself down to a carboot or using an secondhand app to sell things you don't wear anymore and donate the money
S for Skydive
Challenge to fly like a bird for Whizz-Kidz. Contact events@whizz-kidz.org.uk.
T for Tournament
At work or with your friends and family, get into teams, pay to enter your team and host a tournament for Whizz Kidz - it could be football, wheelchair basketball, rounders - get creative and have fun!
U for Unsure
Still not sure what to do? Contact us to chat through your idea.
V for Village Fete
Organise your own Whizz Kidz stall at your local fete to raise funds and spread awareness of our work. Get in touch and let us know how we can help - events@whizzkidz.org.uk.
W for Walking
Get out in the fresh air and organise a sponsored walk or raise funds for tackling a longer hike! Invite friends and family and raise funds for Whizz Kidz today!
X for X Marks the Spot!
Create your own treasure hunt - decide on your treasure, plan your clues or design a map, and organise your own pirate treasure hunt. Reach out to local businesses for treasure and charge friends and family to take part.
Y for Year Long Support
Nominate Whizz-Kidz as your school's or company's Charity of the Year. Raise money for Whizz-Kidz through different fundraising events all year round.
Z for Zumbathon
Ask your local zumba or gym intructors to host a charity class for WhizzKidz - get in shape and make a difference!
If you have any questions or need support with your fundraising, get in touch with us:
| | |
| --- | --- |
| A for Afternoon Tea | At work, school or with your friends and family, make some yummy treats, raise your pinky when you drink and ask for donations to join |
| B for Birthday Fundraising | Want to do something incredible for your birthday this year? Set up a Facebook Birthday Fundraiser and ask for donations |
| C for Climbing | Get sponsored to climb your stairs the equivalent of steps it takes to climb major global landmarks - think the Eiffel Tower, Kilimanjaro or even Mount Everest! |
| D for Dress Down Day | Dress down (or up!) for school or work- ask everyone to donate to get involved and don't forget to tag us in photos on social @WhizzKidzUK |
| E for Eurovision | Or use another event to create your own sweepstake to raise funds |
| F for Film Night | Get your mates round, snacks in, and everyone makes a donation to watch a film, or binge watch a series! |
| G for Games Night | Get together with your friends and family for a games night with a twist - all pay to entry and spilt the total between the winner and Whizz-Kidz. |
| H for Head Shave | Go old school and shave it off for donations - stay old school and find our sponsorship forms here |
| I for International | Did you know that we have some international sponsored events that you could take on? Contact events@whizz-kidz.org.uk |
| J for JustGiving | It is quick and easy to set up your own online JustGiving fundraising page, that's bespoke to your event! You can share it with friends and family to encourage them to donate to Whizz Kidz, helping us support many more young wheelchair users. |
| K for Karaoke | Do you fancy yourself as bit of a singer, or know all the words to Bohemian Rhapsody? Even if you don't why not find a venue (it could be home, office or even a real karaoke bar!), charge an entry fee, or donate per song and fundraise while having 'the time of my life' |
| L for the London Marathon | What else could it be?! Sign up today |
| M for Match Funding | Before you start your fundraising, ask your work if they offer match funding to double your impact on Whizz Kidz |
| N for Night In | Swap your night out for a night in and self donate the difference to Whizz-Kidz. Pick a great film, grab your PJs and enjoy your night! |
| O for Open Mic Night | Calling all singers, musicians, comedians, magicans and everyone inbetween - host your own open mic night! Reach out to a local pub to see If they will donate the venue and simply charge an entry fee and ask for donations on the night |
| P for Playlist | Listen to music when running? Your friends and family get to pick their favourite (or not!) song to add to your playlist to listen to on the day - for a small fee! |
| Q for Quitting | Whether its your morning coffee, chocolate or that little tipple, get sponsored to give something up! You don't have to wait for January or Lent… |
| R for Recycling | Got a few things in your wardrobe gathering dust? Get yourself down to a carboot or using an secondhand app to sell things you don't wear anymore and donate the money |
| S for Skydive | Challenge to fly like a bird for Whizz-Kidz. Contact events@whizz-kidz.org.uk |
| T for Tournament | At work or with your friends and family, get into teams, pay to enter your team and host a tournament for Whizz Kidz - it could be football, wheelchair basketball, rounders - get creative and have fun! |
| U for Unsure | Still not sure what to do? Contact us to chat through your idea using this form |
| V for Village Fete | Organise your own Whizz Kidz stall at your local fete to raise funds and spread awareness of our work. Get in touch and let us know how we can help - events@whizzkidz.org.uk |
| W for Walking | Get out in the fresh air and organise a sponsored walk or raise funds for tackling a longer hike! Invite friends and family and raise funds for Whizz Kidz today! |
| X for X Marks the Spot! | Create your own treasure hunt - decide on your treasure, plan your clues or design a map, and organise your own pirate treasure hunt. Reach out to local businesses for treasure and charge friends and family to take part |
| Y for Year Long Support | Nominate Whizz-Kidz as your school's or company's Charity of the Year. Raise money for Whizz-Kidz through different fundraising events all year round. |
| Z for Zumbathon | Ask your local zumba or gym intructors to host a charity class for WhizzKidz - get in shape and make a difference! |