We provide high-quality equipment tailored for children and young people who need wheelchairs
Whizz Kidz supplies made-to-measure wheelchairs to some of the 75,000 young people in the UK who need them to be fully mobile, when they don't meet the NHS criteria for this type of equipment. Whizz Kidz has over 30 years of experience tailoring high-quality equipment, so it meets each user's unique requirements and helps change their lives.
Our wheelchair clinics make sure you get the right equipment fitted to your individual needs. From manual wheelchairs to powered options, trikes, buggies and more – we aim to keep you mobile and moving forward as you grow. And with all the latest equipment on the market, we ensure parents and carers have the support they need too.
Whizz Kidz has a team of experienced occupational therapists, physiotherapists and engineers who thoroughly assess each young person who applies. Using our in-house expertise, we source the right wheelchair for that child or young person at the right time. We complete the assessment, work with you to decide on the equipment needed and then hand it over, liaising with local therapists where appropriate for the best possible results.
Unfortunately, there are some types of equipment we don't fund currently, such as standing chairs and powered recreational wheelchairs, e.g. football chairs. Whizz Kidz funds complete pieces of equipment, however where possible we like to work with the NHS and joint fund equipment through the NHS personal wheelchair budget scheme (PWB). For recreational pieces of equipment there is a funding limit, so in these situations we may ask families to contribute towards the equipment.
Get in touch with us today and apply using the equipment application form. We can't wait to give you or your family member the opportunity to go further in life.
Apply for Equipment
Think we might be able to help? Find out more about the application process.
Find out more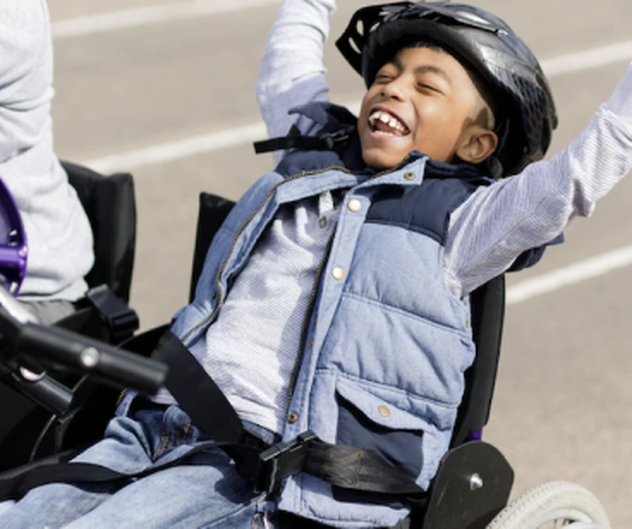 Our range of mobility equipment