"We work to be the role models we wanted when we were younger"
Meet Ella, the new head of Whizz Kidz's campaigning group of young wheelchair users, and get to know her assistance dog, Moose
If she's not speaking to influential people at the Houses of Parliament, she's completing the London Marathon fuelled by sheer determination and fizzy sweets. There's no job spec for working to be a role model, but it's incredibly varied and keeps you extremely busy, judging from the example set by Ella Mae Warren, who also works full-time in human resources and is studying part-time at Northampton University.
She's taking on even more now. We're pleased to officially announce that Ella has been appointed as the Chair of the Kidz Board, our group of campaigning young wheelchair users at the heart of the charity. Ella joined the Board in 2019 as the member representing the East Midlands and hasn't looked back.

She's following in the influential trail blazed by the previous Chair, Penny, to whom we recently said a fond goodbye. What did she learn from the outgoing Chair about handling the role?

"Penny showed and taught the board that we all have the right to be in that space, we have the right to feel valued, and we have the right to have our voices heard," she says. "She also encouraged me to have the confidence to make the role my own."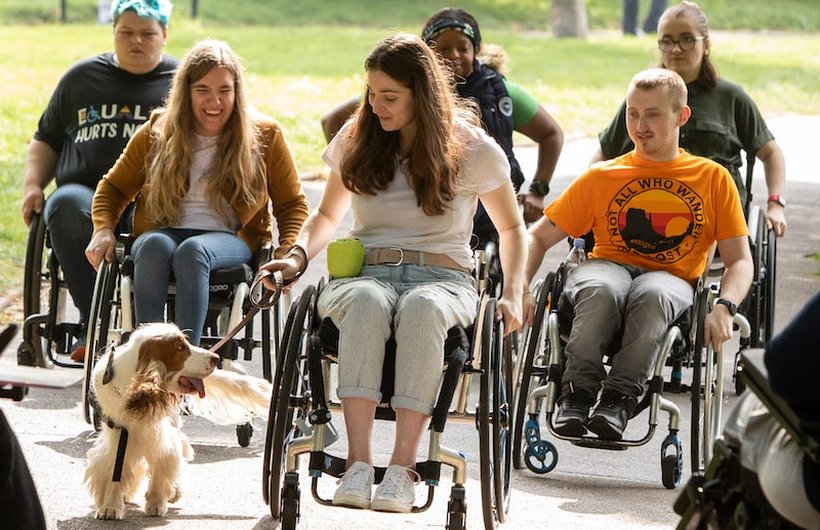 As you'll see from Ella's answers, the Kidz Board is in safe hands and will continue to be a leading voice for young wheelchair users under its new Chair. But as well as changing society, what does she think Whizz Kidz as a charity needs to push harder on? There's always more to do.
"We want to work together to get the funds and resources to provide the estimated 75,000 young people who need a wheelchair with the right mobility equipment at the right time," she says.
"Reducing the wait for equipment, parts, and repairs is important. As is providing programmes and opportunities in more regions," she adds.
The beneficiary experience would be complete with "a safe online community for young wheelchair users that informs and guides young people and their families through different experiences and life stages."
So, now that she's leading, what does she see as the overall mission of the Kidz Board?

''As a Board, we work together to be the role models we wanted when we were younger and to work towards a world in which young wheelchair users have the confidence, skills, and opportunities needed to be an active part of society.''
Find out more about Ella's role, her ambitious plans for the Kidz Board plus Moose's only two weaknesses below.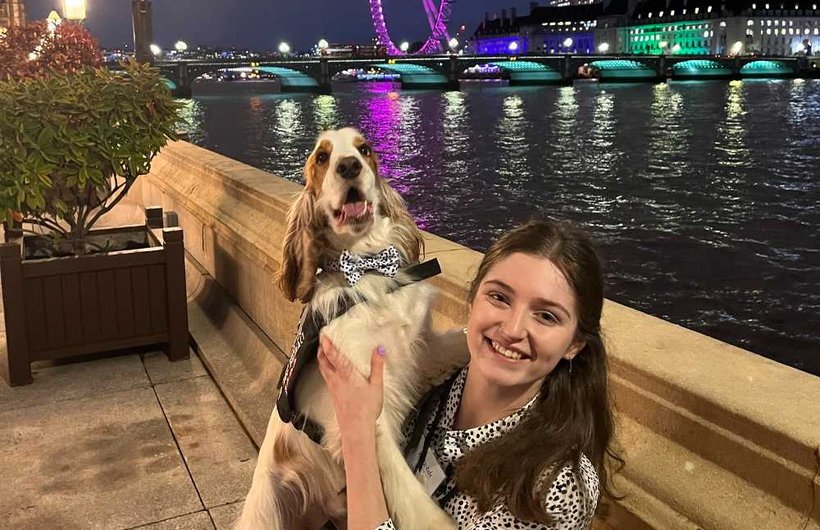 Ella on being Kidz Board Chair
How did you feel when you first found out you'd been made Chair of the Kidz Board?
A little bit of disbelief but very pleased and excited about the new opportunity.
How did your friends react to you being made Chair?
My friends were less surprised than I was. They had seen the amount of work I had been doing for Kidz Board and Whizz Kidz and felt like it was a natural progression.
I know you're just at the start, but how, ideally, do you want your time as Kidz Board Chair to be remembered?
Ideally, for influencing our policy work to ensure the government creates positive change for young disabled people and wheelchair users, as well as growing our social media presence.
How do you work with the other members to capture their thoughts and priorities?
We are a good friendship group, communicating often outside of meetings, so I understand their thoughts, what they are looking for, and know of any other things they may be dealing with. We work together very well.
What would you say to young wheelchair users to get them to join Kidz Board?
It's a fantastic opportunity to develop skills and friendships in an accessible and safe environment.
You're an accomplished speaker in front of influential audiences – do you find that stressful, and how do you handle it?
I used to find it a lot more stressful. Nowadays, I feel much more comfortable by preparing as best I can beforehand. My assistance dog, Moose, also helps.
How would you like Kidz Board to develop going forward? What's your dream for Kidz Board?
The dream is to have a real, lasting impact on young wheelchair users by influencing policy, something tangible around our manifesto priorities.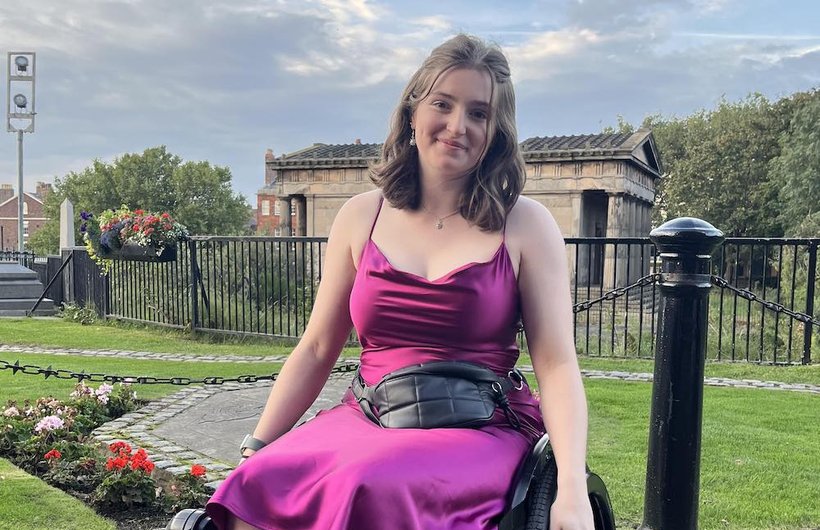 Ella on young wheelchair users
What are the biggest challenges for young wheelchair users in the UK?
It is difficult to summarise. Many of the challenges are systemic, such as accessing the education system, employment, travel, and social opportunities.
And what about some of the challenges that aren't that big but you would still like to sort out?
Tackling local community issues, such as the stairs at my local Aldi, that could easily be a ramp instead. I want to encourage all young wheelchair users to take on some of these challenges.
What's been the most memorable moment on Kidz Board that sticks in your mind as making a difference?
Being recognised in the 2022 Disability Power 100 list was special, as was being shortlisted in the 2023 National Diversity Awards. Launching our A-Z of going to university is hopefully the first of many resources we produce, and supporting the Rights on Flights event at the House of Commons with many influential people.
What would you get the Kidz Board to do if money and resources were no object?
Travel a lot more. Attending more clinics and clubs, speaking with more young people in person, and raising more awareness. It would be great to create jobs and paid opportunities for young wheelchair users.
You advocate for accessibility and inclusion every day. What's one great example of accessibility or things getting better for young wheelchair users that you've experienced recently? And what's one thing (from many) that still isn't right or even getting worse?
The Elizabeth Line is a great example of just how accessible and efficient travel can be. However, in my experience, the lift to access the platform is often out of service. Being able to use that line makes travel so much better for wheelchair users, but being unable to access it can make it worse.
Do you have any words of advice for young wheelchair users who might be struggling at the moment?
Find a community where you aren't the only wheelchair user. Everybody needs people around who can genuinely understand your lived experience.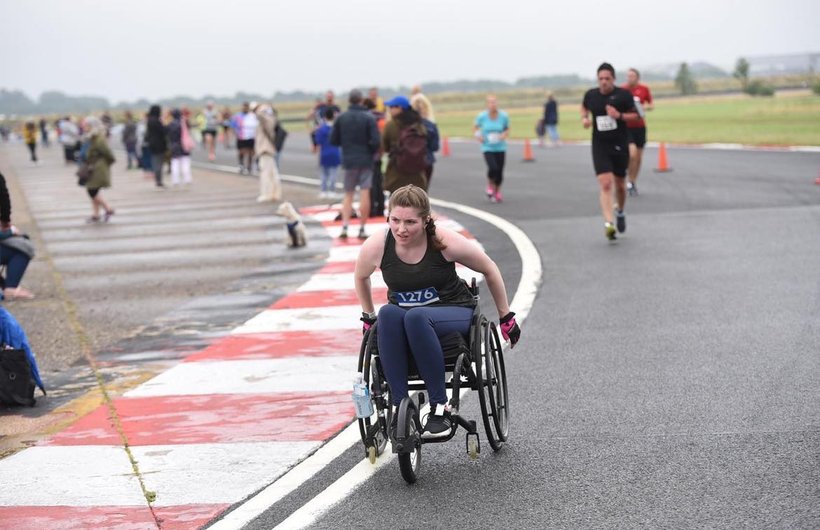 Get to know Ella
What's something surprising about you that we might not guess?
I'm terrified of open water, but I like to do triathlons.
What do you like to do to relax and have fun?
I like to keep busy by staying active, training, going to the gym and swimming. I also like to read.
Completing the London Marathon this year was huge. Do you have plans for more runs?
My aim is to complete my London Classics Medal in 2024. Only a handful of wheelchair users have achieved this. Hall of Fame - The London Classics
Have you had the chance to meet any famous or influential people and tell them about Kidz Board yet?
I have had the opportunity to meet and speak with various UK Ministers and the Hon. Bill Shorten, MP Australian Minister for the National Disability Insurance Scheme. Other influential people include the late Clare Gray, Sophie Morgan, Sophie Butler, Samantha Renke, and Anna Landre.
What are your favourite things to watch? Listen to? Eat and drink? And do?
Watch: Friday Night Dinner.
Listen to: Taylor Swift.
Eat and drink: most of Kidz Board will know my order of fish and chips with a J2O.
Do: Keep active and read; it would be great if books were more affordable.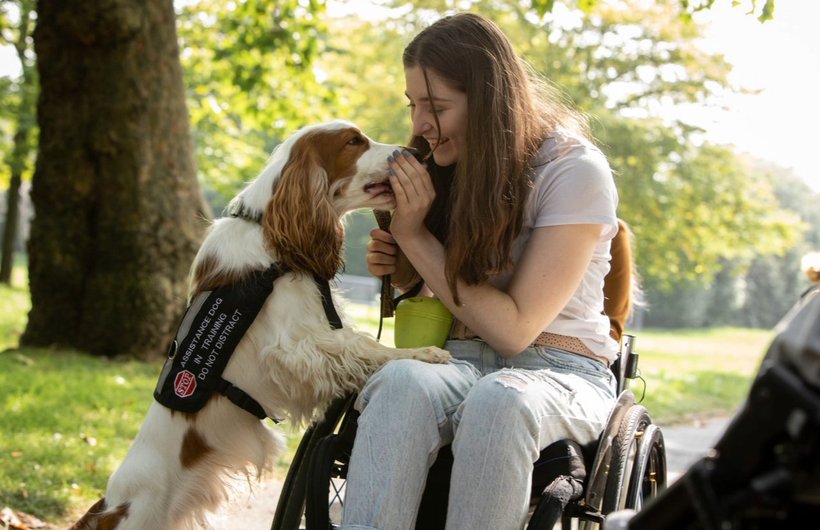 More about Moose
How does Moose assist you day to day?
Moose is a medical alert dog and monitors my blood pressure. He also helps with my shoes and socks, picks things up, and keeps me calm and comfortable.
What's been the most important thing he's done for you?
Confidence. I feel like I can do anything when he is with me.
How much attention does he attract in the Houses of Parliament?
He attracts attention everywhere he goes! Last time at the Houses of Parliament, he was given two water bottles to make sure he didn't get thirsty, even though I had plenty of water for him already. He was once proclaimed the best-dressed dog in Westminster as he had a matching bow tie to my dress.
Moose looks like the best-behaved dog. What's the naughtiest thing he's done? What are his weaknesses? How does he take being told off?
Naughty: he does tend to prance around the room, showing off something he has "stolen" from my bag or found nearby.
Weakness: squirrels and Quavers.
Being told off isn't really an issue for him; he loves attention and gives pretty good "puppy dog eyes" so it's impossible to be upset with him.