Applying for Disabled Students' Allowance with Sophie Washington
Sophie shares her experience and tips for applying for a DSA ahead of university
Hi everyone, my name is Sophie, I'm 25 and I am a student with The Open University.
Today, I want to share with you my experience of applying for Disabled Students' Allowance (also known as DSA) – which is a government grant for disabled students in the United Kingdom.
If you have a disability, medical condition, sensory impairment, mental health condition or specific learning difficulty that affects your ability to study, and are an undergraduate or postgraduate student on a course that lasts at least a year (including part-time, Open University and distance learning courses) you will likely be eligible for DSA – as long as you qualify for Student Finance and are a UK resident.
The application process for DSA can be quite lengthy, so it's best to apply as soon as possible to ensure your support is in place before your course starts.
However, it is actually pretty straightforward and nothing like the application process for benefits.
It is important to note that the application process does vary slightly depending on where in the UK you live: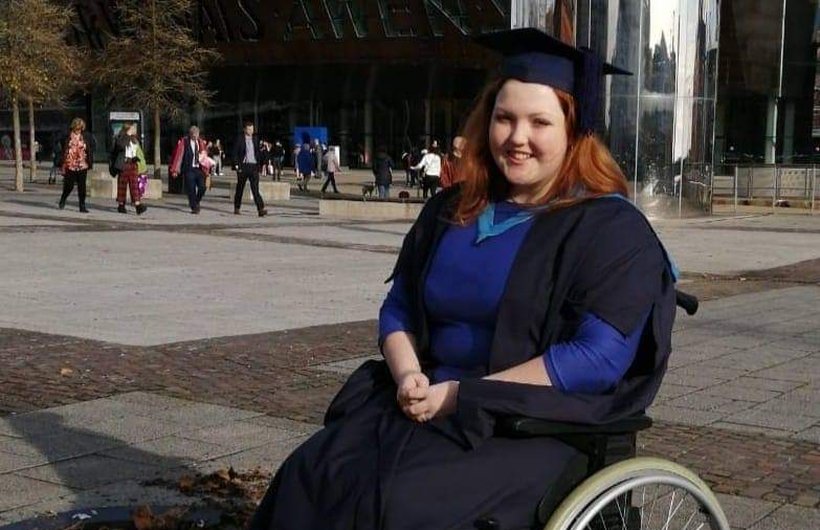 I live in Carmarthenshire, so applied through Student Finance Wales.
The first step was completing the DSA application form – it looks scary, but it really isn't! There are guidance notes on the website too, which are really helpful.
The most important part of the form is medical evidence. My advice would be to send as much as you possibly can!
When I first applied, I was asked to send additional medical evidence. This is because the medical evidence I sent originally did not specify particular dates I was diagnosed with certain conditions, or explicitly state whether or not certain conditions were life-long, and if not how long they were expected to last.
I asked my GP to write a letter which listed, for each of my conditions:
The diagnosis
The date I was diagnosed
How long the diagnosis was expected to last, or whether it was a life-long condition
The symptoms it caused
The impact it had on my ability to study
It was a (very!) long letter, but it was accepted and I was then able to move onto the next step – attending a study needs assessment.
If you have ever applied for Disability Living Allowance or Personal Independence Payment, the thought of attending another assessment probably fills you with dread and has you questioning whether you want to apply for DSA or whether you'd prefer to struggle through your studies without it – I promise you, a study needs assessment is nothing like a disability benefits assessment!
I wasn't sure if it would be worth it, but it really was and I would definitely recommend seeing your application through.
While you will be asked lots of questions, the answers you give won't be used to determine your eligibility, instead they'll be used to determine which equipment and support would be most beneficial for you.
Your assessor will make notes during the assessment, and afterwards will write a report which outlines the support they believe you need to reach your full potential.
A copy of this report will be sent to you and to your funding body. You will then receive a letter from your funding body informing you what equipment and support from your study needs assessment report they will fund.
Usually (but not always) this is everything your assessor recommended! The letter will also give you information about how to order your equipment and/or arrange your support.
My assessment went really well – it lasted about an hour and I was told if I needed to stop for any reason to just let my assessor know.
My assessor did ask a lot of questions, but this was so he could work out what equipment and support would benefit me the most.
'Incredible support'
We discussed lots of different options and he was even able to show me some of what was available. I was surprised and delighted to learn about the different kinds of specialist software available!
In his report, he recommended several specialist computer programmes to help me study, including Dragon, Sonocent Audio Notetaker and MindView. He also suggested that I would benefit from having a height adjustable desk, a lightweight laptop and a printing allowance.
When I read a copy of his report, I felt like he had listened to me, understood the issues and advocated for solutions that would enable me to study to the best of my ability.
I wasn't sure I would get everything he recommended, but Student Finance Wales contacted me to confirm they would fund everything he has suggested!
I completed my honours degree in Psychology in 2019, and am currently studying towards an Open Masters specialising in Education, Psychology and Health Science with The Open University.
The support I received from my DSA has been incredible and I am sure my studies would not have been as successful if I hadn't applied.
For more information about Disabled Students' Allowances, there are loads of great resources online, including:
For information specific to your funding body, it's best to go directly to their website – they should have all the information about applying, what you could receive and guidance notes for completing the application form.
I hope this helps, and good luck!