Morph sculptures flood the streets of London in the capitals first step-free art trail around
Whizz Kidz, the UK's leading charity for young wheelchair users, has teamed up with childhood favourite, Morph creator Aardman
From 19 June to 20 August 2023, central London will host over 50 super-sized Morph sculptures designed and painted by a variety of celebrities and artists including Tom Fletcher, Ade Adepitan and Martin Dougan.
This fun family-friendly trail will allow visitors to experience the much-loved children's TV character, Morph in some of London's most iconic landmarks, each designed in a unique way.
A series of smaller 'Mini Morph' sculptures adopted and created by schools will also be displayed as part of the adventure.
This is the first ever public attraction ever designed specifically for wheelchair users.
A Trail Map and App will navigate the public through London's famous streets including the South Bank of the River Thames and the historic City of London, helping them discover each sculpture and unlock a series of rewards and fun facts whilst raising awareness of Whizz Kidz and the incredible work the charity provides to help support young wheelchair users.
Morph lives on a desk, within the confines of an artist's studio. His freedom is limited by his environment, and many of his adventures are born out of frustration with these limitations and the challenges of being a little guy in a big world. This echoes the daily experience of many young wheelchair users, who find their freedom and independence limited by the world around them. They are restricted by inaccessible environments, people's attitudes, behaviour and perceptions of what young wheelchair users aspire to, and can achieve.
Whilst exciting and inspiring people of all ages to celebrate London through creativity, the trail will also increase public awareness about the need for young wheelchair users to be mobile, enabled and included in society.
Each of the 50 Morph sculptures stands at 6ft tall and are adorned with bespoke designs from a range of artists and celebrities, supported by sponsors including Sky, Barratt Developments, EY, Kids Industries, Evenbreak, and Govia Thameslink Railway Ltd.
The Morph sculptures will hopefully prompt conversations about diversity and inclusion for wheelchair users. As part of Morph's Epic Art Adventure in London, Whizz Kidz will use the art trail to encourage the public, business community and young people to envision what a more inclusive world might look like for young wheelchair users, and what role they might wish to play in making this a reality.
Tom Fletcher, Mcfly band member and Whizz Kidz ambassador said;
"I was so excited to be asked to be involved in this morph project. Not only is Morph iconic and creative but this project is helping to raise awareness of inclusivity which is so important. Whizz Kidz is a charity very close to my heart, having been a patron for them for many years, and I'm so excited to see London flooded with such amazing designs and art this summer. My design, is a rock star Morph, having fun and jamming out to his favourite tunes which I hope that everyone likes it! It would be great to see as many people as possible visits the trial this summer and see which morph is your favourite!"
Ade Adepitan, TV presenter and wheelchair basketball player added;
"As a wheelchair user it's so important to me to be involved in events like this Morph art trail. Not only does it showcase the incredible talents of artists, but it also raises awareness of inclusivity in society whilst also supporting a great a charity.
My design is based on a superhero theme. I wanted to demonstrate that everyone of us has a superhero within us, with the ability to do something great. Having disability doesn't have to hold you back from your dreams – such as being a Paralympian like me. I wanted my Morph to help dispel stereotypes and show that people with disabilities are just as capable, valuable, and deserving of respect as anyone else. I hope this Morph trial will encourage children to ask questions and learn more about disabilities in a positive and curious way to help normalise differences and promote inclusivity.
Being able to give back to a cause that is close to my heart is such a privilege and I'm honoured to play a small part in making a difference."
Martin Dougan, TV presenter, Paralympian and Whizz Kidz Ambassador who created one of the sculptures with his brother John said;
"I received a wheelchair from whizz Kidz when I was 13 years old so now coming back full circle to be part of this project feels like I am paying it forwards. It's fantastic that this is an accessible trail, I want everyone to feel part of it and that they can relate to the different designs. I really hope people enjoy it and see it for the fun that it is and for people to challenge their own perceptions of wheelchair users and disabilities. I'm so excited to see the power of Morph and Whizz Kidz come together and provide a great day out that families can do together which will bring us all closer together."
Morph, the iconic animated clay character who first appeared in 1977 in the BBC children's programme Take Hart, and was a regular fixture on children's television throughout the 70s and 80s. Art is part of Morph's DNA, which makes him the perfect ambassador for this art trail. Ever since his early days on our screens, Morph has been making mischief and encouraging generations of kids - and adults – to get creative, just as he will continue to do on the streets of London in 2023.
There are around 75,000 young wheelchair users across the UK. Many of whom are unable to access the right equipment and support to meet their needs, and who struggle to participate equally in cultural events and social activities due to poor accessibility and inclusion.
14-year-old Ben has experienced first-hand the amazing work that Whizz Kidz provides. Ben has quadriplegic cerebral palsy and he's autistic. Because of this, he needs around the clock care, personal care, feeding and he's a fulltime wheelchair user. He's never let his condition get in the way of what he wants. He's a determined, driven, very imaginative, funny young lad! The family were recommended to Whizz kidz by a family member when his mum mentioned looking for a powered chair for Ben. Ben is still getting to grips with Zippy 3000. He named his powered wheelchair as he doesn't like people calling it his "electric chair. He's loved having the independence at school, going from one classroom to the next with his friends, rather than being pushed by an adult.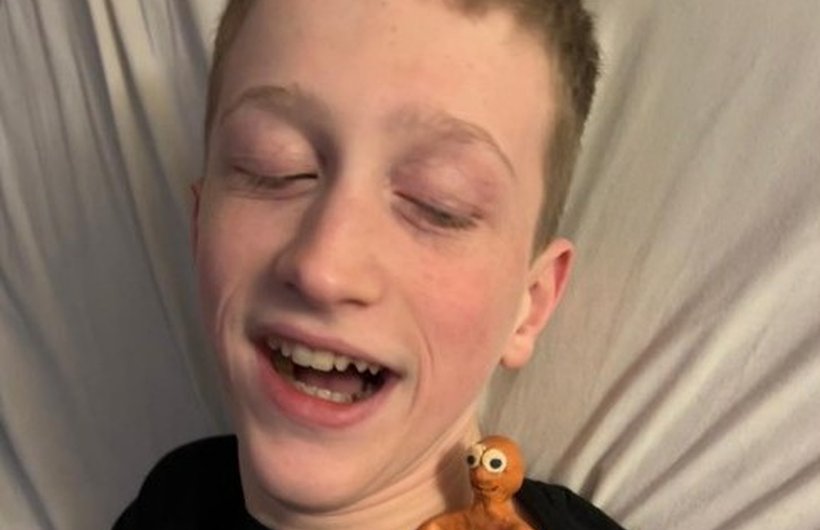 Ben, he is a HUGE film fan. He loves knowing the ins and outs of every film, the behind the scenes, how it was made, any stories about what happened on set, etc! Since being introduced to Wallace and Gromit years ago, Ben has grown to love everything AARDMAN, and Morph was no exception! To add to this, Ben was kindly funded a powered wheelchair by Whizz kidz. So, when these two teamed up Ben HAD to get involved and feels VERY passionate about the cause.

Sarah Pugh, Chief Executive at Whizz Kidz said;
"We are thrilled to be involved in this step free art trail project as it not only provides accessibility for all to experience the beauty of art but also helps to raise awareness about our charity's cause. We strongly believe in the power of art to bring about positive change, and this project is a wonderful way to draw attention to our mission and impact more lives."
"At Whizz Kidz, we understand that having the right piece for equipment could change a young person's life forever because it provides emotional well-being, confidence and helps reduce social anxiety as it enables disabled children to take part in more activities. This trail means that the whole family can get involved and enjoy a summer holiday experience all together. However, it is much more than that - our vision is to create a society in which every young wheelchair user is mobile, enabled and included."
When the Trail ends, the super-sized Morph sculptures will be auctioned to raise funds for Whizz Kidz with the aim of raising £500,000. Whizz Kidz is embarking on this fun, fully accessible trail across London to raise awareness of the need for better access and inclusion for young wheelchair users, and to raise vital funds to support their work. The money raised will enable the charity to provide life-changing wheelchairs and confidence-building opportunities for young wheelchair users in the capital and across the UK.