Good money management with Chelsie Jones
From struggling with numbers to setting budgets, Chelsie discusses how she manages her money
Hello I'm Chelsie, I am a 22‐year‐old media production graduate living my daily life with cerebral palsy.
I am here today with Whizz-Kidz to discuss the topic of money and how I manage my money to suit my personal needs as a young woman with a disability.
I am delighted to write for Whizz-Kidz as they are a charity that has given me a helping hand throughout my years of life as a wheelchair user.
Growing up through the years, numbers and money are something that I have struggled to manage on my own. Therefore I have someone I trust to help me with this.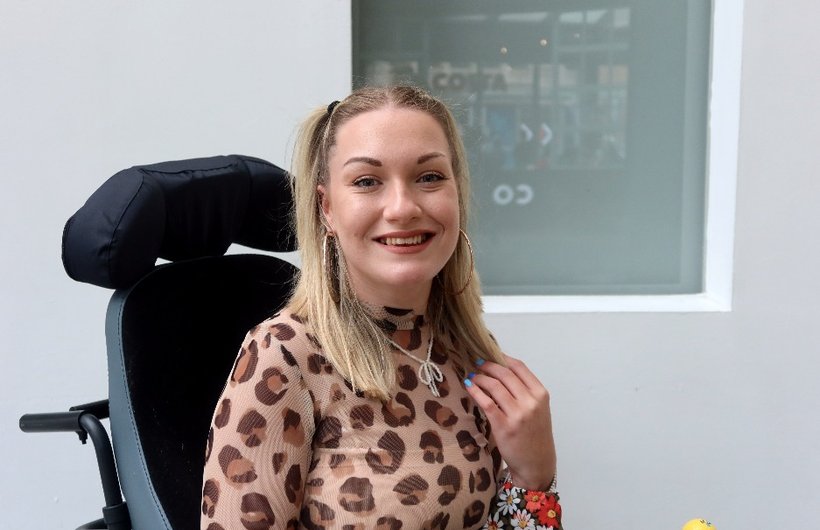 Living with number dyslexia from a young age made even the simplest of tasks with numbers and money challenging for me.
I have a vague memory of being in my maths class and getting stressed out because I couldn't understand even the simplest concepts of maths.
I used to feel embarrassed about this, however in my recent years I have realised that maybe maths won't become my strong point.
I have naturally gravitated to the creative field of media and content creation, this is where my strengths are.
Having someone help me with managing my money in my more recent years of life has helped improve my quality of life and daily living, making me live more sufficiently and in effect more independently.

I have learnt that managing money with someone to help in setting budgets is how I go about this in my daily life.
I do a lot of work in the creative field and have many creative outlets. I mainly specialise in social media and presenting.
My ideas surrounding my social media is to convey a positive outlook on disability, and bit by bit I want to do my bit to break the stereotype of disabled people within the media today.
This is something I feel really passionately about as a young girl with a disability. It's important to realise in today's world that we are all equal.
A lot of the content I create focuses on the positive side to disability, because in my personal experience there are a lot of positives to a disability.
I have my own YouTube channel where I post makeup tutorials for people to follow in the hope that people can learn new tips and tricks to make doing their makeup easier and more adaptable for themselves.
Overall, with my channel Beauty Is My Duty, I want to create relatable, positive content that people can enjoy watching.
I strive to become a positive role model to people and represent the disability community within the media today as I think it's really important.
Raising awareness
I am also a voluntary radio presenter for 103.9 Voice FM Southampton.
My show focuses on opening up discussions of disability through listening to guest speakers' stories, with the hope to raise awareness of different types of disabilities and raising awareness for charities and organisations that do their bit for amazing causes.
Starting up my own show was something I really wanted to do as I felt that opening up discussions would help raise awareness in society today.
I wanted to provide a friendly relatable voice to people listening in their homes. My show is aired every Friday at 2pm, covering different topics each week.
A huge thank you to Whizz Kidz for letting me write about my experiences with managing money and sharing my story with others.
If anyone reading this blog today would like to know more about what I do you can follow my creative outlets below:
YouTube channel Beauty Is My Duty: youtube.com/user/bellabong122
Instagram: instagram.com/chelsie_jones_models

Twitter: twitter.com/Bellabong122